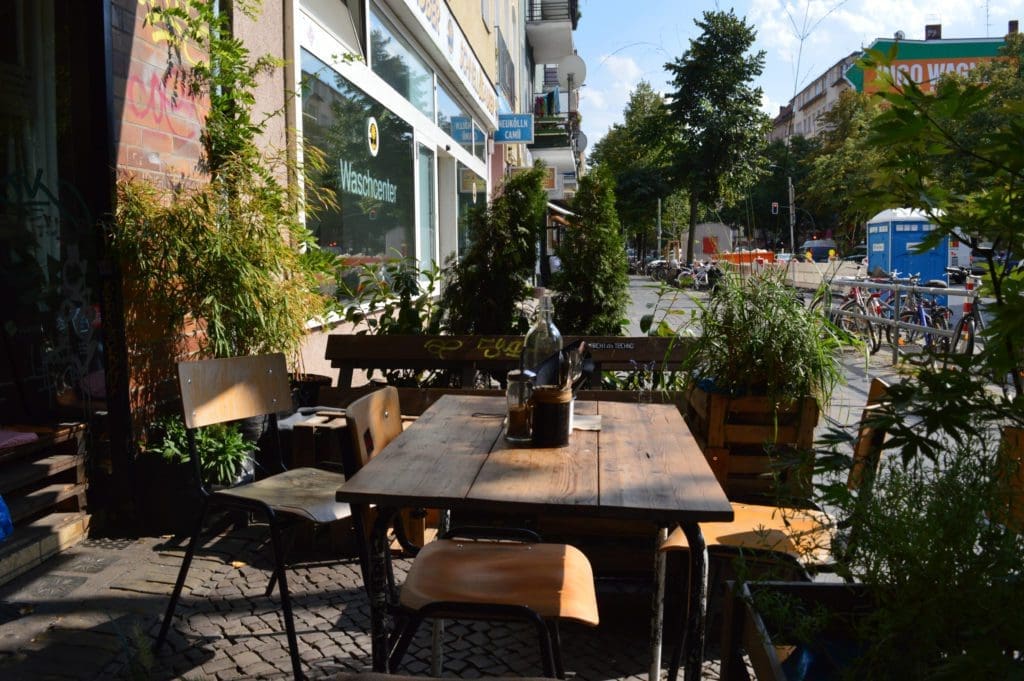 You could go vegan in Berlin for a lot longer than a day in Berlin's Schillerkiez without getting bored or hungry. The Schillerkiez, located at the eastern most gate of one of Berlin's favourite historical sites, Templehofer Field, is booming with alternative, gluten free and vegan vegetarian fare.Vegan Berlin life doesn't get much better than this.
Where Skittles Fly
Bringing together the neighbourhoods Kreuzberg, Templehof and Neukölln, Templehofer Field, was, from 1922 until 2008, a fully-operational airport. Today, it is a public park chock-a-block full of sport-lovers from every corner of the city. It was at this airport in 1948 that one of the most talked about events of the early days of the Cold War took place. The Berlin Airlift aka "Operation Vittles," was an 11-month effort to bring food to West Berlin following the Soviet blockade. Ever hear about the American pilots dropping parachutes filled with candy to kids in Berlin? This is where that happened.
Walking the Vegan Berlin Beat
Some seventy years later, Schillerkiez is central to a new sort of food rescue operation. This time around, it is not lollipops, rather sustainable produce and vegan food that is flying from kitchens and into the mouths of the hip and happening residents here. Fork & Walk set out on a day of exploring this historical kiez and its food. We came back with some dirt and the lowdown on vegan life in this corner of vegan Berlin
Vegan Berlin: Too Much of a Good Thing ?
There are some strictly vegan and vegetarian restaurants in the Schillerkiez. Most non-vegan places serve a variety of dishes and reserve space on the menu for vegans. Two of our favourite spots are technically only a block or two outside the 'boundaries' of Schillerkiez. They are well-worth the extra couple of minutes it takes to get there. One could say that Schillerkiez is as much a state of mind as a set of geographic coordinates.
Vegan Berlin: Still too Much of a Good Thing?
Vegan cakes abound. You'll find them at Cafe Engles and at Cafe Aviatrix, the later with the aptly titled 'Vegan Sandwich Deluxe' and 'Awesome Vegan Brownies.' There are vegan ice cream choices at the Gelataria Eis Mosley, and some pretty stellar vegan burgers at Berlin's original Schillerburger. Did we mention the Halloumi sandwiches at Sahara Imbiss? Sahara is a real Berlin culinary success story and is famous for its peanut sauce. Sahara is so popular with vegan Berlin that there are now six locations. If you want to go all vegan all the time, a big vegan destination spot in the city is No. 58 Speiserei. Breakfasts and baked goods here rule, especially the sourdough bread. However, this place is not cheap, so bring that wad of vegan cash.
Out of Bounds and on a Collision Course
If that isn't enough food your vegan soul, there is the Libanon Falafel at the north end of the Hermanstrasse on the Flughafenstrasse. Here you will find simply the best values on falafel sandwiches in Berlin, at only 1 euro a pop. A Lebanese chef from the neighbourhood says this how they do it in Lebanon – cheap and delicious. Add a few steps to your Fit Bit and walk two blocks out of Schillerkiez to the south end to BONA Kollectiv. Besides, it is the only place we know where Poland and Italy collide. This place has two of our favourite things: great value and giant vegan sandwiches.
If you are a vegan in Berlin, there is no way you are going to starve on this side of the city. So get your Fork & Walk on and get in there. A day eating in this kiez for the vegan voyager is a day well spent, and a day well-fed.