Enter the beautiful season of Autumn
Berlin is surrounded by forest and this is a wonderful city to start your mushroom foraging career – if you have not already.
The closest and largest central Berlin forest to look for mushrooms would be Grunewald. At 3,00 hectares large there is plenty of opportunity to discover not only the hidden Fungi and other flora & fauna.
Schlachtensee, Tegel forest and Koepenick region also have a lot of different mushrooms types. Outside of Berlin in the north, Schoenower Heide and Wandlitz are lovely areas to both pick and walk.
The golden questions:
1. How do we find mushrooms?
2. When is the right time to search?
3. Which mushrooms to pick and eat?
The third question is the most important but first let's guide you to the source. Once at your mushroom-type we can work out if it is ok to eat or not.
Mushrooms we know can be found in the forest growing wildly. The biggest growth comes in Autumn, with mushrooms types running wild around European forests. The best time is between mid-September to late-October when the weather starts to cool down between 15c and 21c and the overnight air becomes moist.
Mushrooms need a mix of air, light and moisture. As such the deeper into the forest one walks the thicker it becomes, which in-turn reduces to air and the light. For this reason Mushrooms are best to be found not far from the beaten path or along the path itself.
Most forests will also have clearings or areas without many trees, these are also great areas to search.
The best time to search is after a moist night or after rain. Mushrooms grow quite quickly, so early morning is the best time before the other pickers find their way into the forest.
It is best to always take a small knife or Swiss-army-type knife to cut the mushroom at the stem. Never pull out the mushroom from the soil, or it will not grow back again.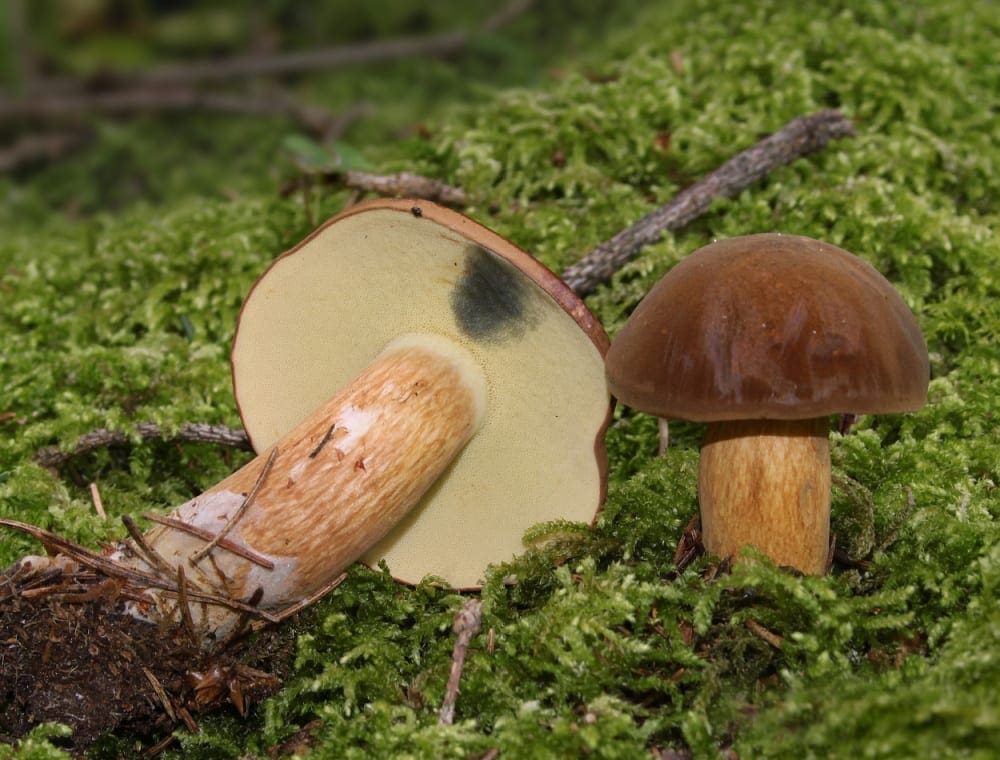 Finding mushrooms in-season may seem easy – that is if we could actually eat them all with either not being poisoned or getting high.
The most common mushroom in and around Berlin forests is the "Marone" – Boletes (pictured aobve). It is very easy mushroom to test before cutting by pressing your finger into the sponge on the bottom of the Marone, so as to make a small indent. The spot where pressed will turn a blue-ish colour if it is a Marone.
They vary in size from baby-size to nice big chunky-size.
Once home peal off the sponge and cut the mushroom in half and check for holes. If there are holes these are worms, in-which case they should not be eaten.
Marone are meaty-type mushrooms and a great for a risotto or a creamy pasta.
Next is the "Steinpilz". Although more common in southern Germany, they can be found here too. These have the same colour and similar look to Maronen, but the stand thick and straight.
Another interesting and more rare to find mushroom is the German beloved "Pfifferling" – chanterelles. They are orange or yellow, meaty and funnel-shaped. On the lower surface, underneath the smooth cap, it has gill-like ridges that run almost all the way down its stipe, which tapers down seamlessly from the cap.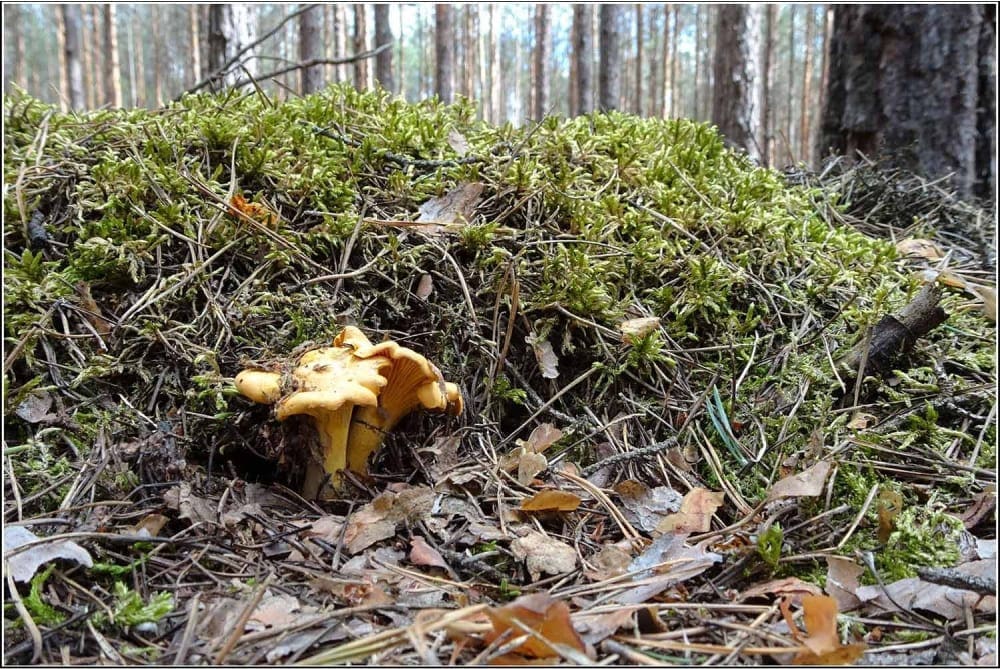 In regards to what not to pick and/or while foresting, the list is quite long. A common one to see the red mushroom with white poker dots or the purple flat mushroom.
The best rule to go by here is basically is you are not 100% certain, do not pick it.
Generally colourful mushrooms are very toxic, but nonetheless they are very interesting to discover and look at up close.
If you are keen to get into this flourishing season in Berlin, Fork & Walk would suggest to take a look at Dr. Ewald Gerhardt, resident expert at the Botanical Gardens in the west of Berlin. Dr. Ewald Gerhardt offers Pilzberatung ("mushroom advice") in English or German at selected hours.
KINDLY NOTE: We do not run Mushroom Foraging Tours.
While we would love to, mushroom picking is a fickle business with much movement required by car and foot for a successful collection.