Roma Unplugged
Our Foodie Experiences & Recommendations
A freeway built in between ancient city walls, a Mercedes Benz cafe opposite the fancy Ferrari airport café. These are the first three images upon landing at Rome FCO and the immediate feeling that we are no longer being in Berlin.
"Berlin is raw, but Rome is ancient". These are the initial words that come to mind as we make our way out of the airport.
First stop has to be a food tour! The best way to get acquainted to the delicious flavours of Rome. We drop our bags at our friendly Radio Hotel in Trastevere, which is pronounced Tras-te-ve-re with a mini-pause between 'tras' and 'te'. The journey here is north towards the Vatican in an area called Capri to jump on the evening food tour with the company 'Roman Food Tour'. We are greeted by our lovely foodie guide Raluca whose origins lay in Romania and moved to Rome some 10 years ago. Now Raluca speaks fluent Italian and is an absolute barrel of laughs from the start, making the group feel very comfortable and well-acquainted. We are also offered a free bottle of water to manage the onslaught of Italian wine from the beginning.
An Italian delicatessen is first on the menu of visits, slapped in the face by the site of hanging Pork cheek slathered in black pepper and layed to rest on the skins. We learn pork cheek is traditionally used in a Carbonara pasta – not our commonly used bacon. Large cuts of Parmaigano and Percorino are very impressive, along with the array of blue cheeses and other Italian cheese delights. Raluca chats with the store owner to ask about the quality of her recently acquired Balsamico, giving us a real authentic food tour feel. The delicatessen has its owns restaurant just up the road and this is where we are first headed.
Waiting for us our individual wooden-boards of cheese and meat delights, all Italian except the beloved top-quality Jamon which Italians even make an exception to devour non-Italian goods, a clear example that great food is appreciated. We are served up a range of red and white wines to match the assortment, with generous top-ups, leaving the group in an already tipsy-state following the first tasting stop.
" pork cheek is traditionally used in a Carbonara pasta"
Foodie stop number two is Buffalo Mozzarella restaurant and again waiting our palates our two large boards featuring local homemade green pesto, Italian sun-dried tomatoes, strong blue cheese and a soft cheese soon to be graced with an impressive 20 year old balsamic vinegar – a speciality of the restaurant.
Raluca teaches us the ins & outs of Buffalo Mozzarella and the origins of the immigrant Buffalo, while also sharing her in-depth knowledge of Balsamic vinegar.
But the main event is the Buffalo Mozzarella and we are not disappointed. The owner is so particular about serving the highest quality available and the best experience, that only 6 servings are purchased at a time for the restaurant, as the precious Buffalo Mozzarella is only at the top of its game 24hrs after being formed. A luscious but firm skin with a creamy delicate inside, this is the experience I personally came for and it was unbelievable. We never actually reached this experience with Buffalo Mozzarella again on the trip. Oh and of course, red and white wine to match the tastings. Everyone is well on their way now!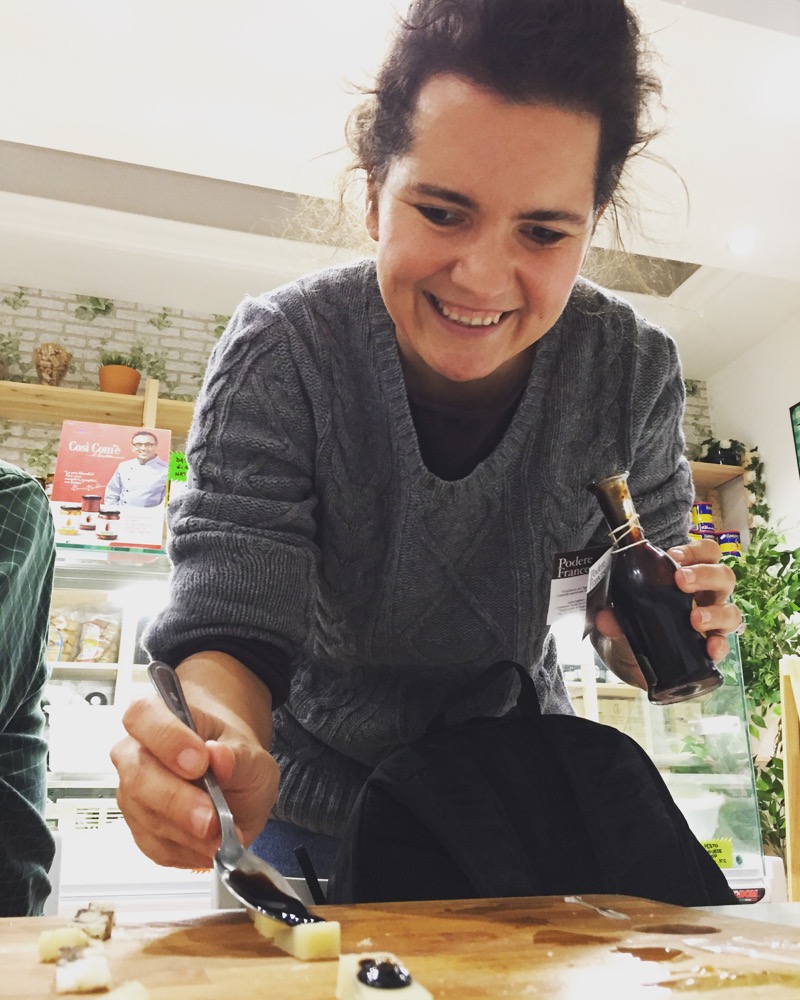 Stop number three was what is called in Pizza A'taliano, which is as we learnt is the name for pizza by the slice i.e. not a whole pizza. This was created for the poor who couldn't afford a whole pizza. The place is in institution for on-the-go and late night food lovers. Each of us are allowed to choose one slice from the daunting array of toppings, allowing the group to work together and spread the options between the group.
Raluca informs us about the process of pizza dough-making and the patient approach of 3 days to create the best fluffy dough possible using only '00 flour of course. The pizza helps to soak up the flow of wine throughout the first two stops.
Number four on the list is a sit-down Pasta restaurant where we are greeted with a homemade gnocchi and the traditional large Ravioli, 4 pieces but worth a whole meal or as Italians eat it as 'secondi', which means as second course. That's right, our western style big bowls of Pasta as one meal is not traditional at all. Again more wine to match, including a northern Italian German wine. In the north of Italy boarding Switzerland they never bothered to learn either Swiss or Italian and stuck with German. Being a popular wine region the bottles are all scripted in German.
We finish off the tour with dessert of course. What better to fill the remaining gaps in our stomach than a proper Italian Gelateria. Fartermagamo is actually a chain in Rome, but it serves Gelatie correctly. As we are taught be Raluca, this is not the fluffy mountains of ''ice cream'' flowing lusciously above the tins like the Swiss mountains. This is Gelati without the ''Cream' part, as such it has a quick production process and is scooped from inside the tin i.e. no fluffiness – this is real Gealti. One last lesson about the process of making Gelatie and the famous pistachio bean and we are left to choose from the 50 flavours available, including plenty of traditional and experimental options including Ginger and Pineapple.
We are well-wished by Raluca and we all leave very impressed not only from the food, but by the knowledge and easy-approach of the lovely Raluca.
Day two – food tour two awaits (you can never take enough food tours)
This time it is in our local vibrant area of Trastevere with 'Eating Italy Food Tours – Rome' for the 'Trastevere for Foodies'. Walking into the old city area of Trastevere you get a real sense you are in traditional part of Rome. Local delicatessens, family butchers, biscotti cafes, local bars and a bustling atmosphere of the older generation Roma's chatting and waving there hands around under the sunlit sky while setting-up their local market stalls. This makes me all warm and fuzzy inside.
At 1130 our lovely tour guide Sarah greets outside the café meeting point. Expectation were high after last night's tour, but also open-minded (…and this is where I try to cut down an amazing experience into a short blog).
Station one 'Pasticceria Trastevere' looks like a run-of-the-mill biscotti shop that you would walk past any time of day. But Sarah's story brought it to life. Run by Signora Vera who opened it in 1976. Currently In her eighties and still comes to work every day. Her daughter in law helps her create the wonderful pastries that they make fresh everyday. We tried her bignets with the zabione cream (egg custard with marsala wine), killer! We also stared and drawled at the Spaghetti cake.
As we moved towards our second stop (just around the corner Sarah mentioned), I started to get very excited at the prospect of visiting what seemed to me the Chemist of cheese and meats. I had already walked past twice before the tour holding myself back from walking in, in the case that I never want to leave, or end up buying way too many items before the tour. Thank my luck stars 'Antica Caciara' was our next stop. And boy did it measure-up to expectations. Run by Signor Roberto (who is currently my favourite man on earth – next to my Dad of course) has worked there since the age of 13 in 1963 and took over at 23 when his father retired. The shop itself opened in 1900. Famous for his real pecorino Romano that comes from his uncle's farm right outside of the city of Rome (not the pecorino Romano being produced in Sardinia which is saltier). We also sampled 28 month old Parmigiano Reggiano. He treats everyone like family, including us. His wife and sister also work alongside him. This place was a dream come true. I was already 100% satisfied with this tour. But of course there was more to come and of course my curiosity was still hungry for more.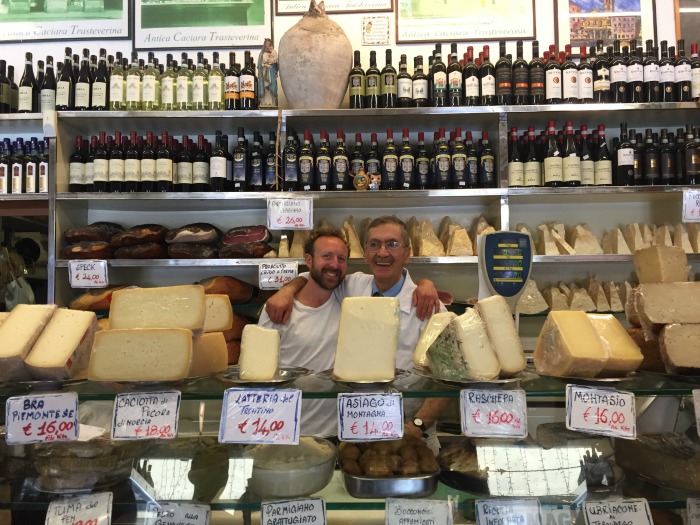 Bring on 'Suppli' – run by Giacomo, Enrico and Loreto. They have been in Trastevere since 1979. Named after the deep fried risotto balls called suppli' (beef and tomato sauce risotto with the mozzarella on the inside). Suppli' as it called in Rome (some know it is Aracini – the name from Sicily) have existed since the mid 1800s and the more specific name for them is suppli' al telefono (on the telephone) because you get the long wire from the mozzarella cheese when you bite into it. The outside fried layer perfectly supported the glorious stringy cheesy goodness inside.
We also sampled a piece of pizza marinara (roman thin style crust pizza with tomato sauce, garlic, parsley, olive oil and hot pepper flakes). A simple slice made to perfection. The tomato sauce was top notch.
"the best Porchetta in Rome"
'Norcineria Iacozzilli' run by Piero his son, and wife who conveniently live right above the shop! Also working there, we have Maurizio and Emanuele who are brothers. Sarah tells us it's the local frat house and they love to joke around. Sarah has a great connection with all the stores, as she chats openly in Italian with workers – it is so refreshing to see this approach and comforting to know we are in good hands. Here they make the best Porchetta in Rome because Piero has his own pigs. Roast pork stuffed with rosemary, garlic, salt, and pepper. Roasted for 6 hours at low temp so it's juicy and has a crispy skin that will leave you begging for more (we came back another three times throughout our Rome journey).
There was also a very impromptu tasting which we won't spoilt the surprise in case you join.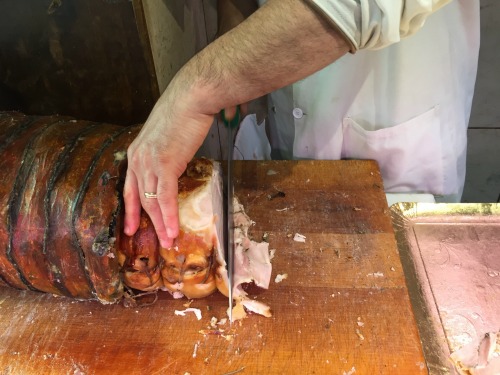 Next we entered the local outdoor market of 'Mercato di San Cosimato'. Elderly Italian women and men waving their hands around in conversation, all seemingly very happy and charming, love it.
We dipped into Concetta's fruit stall. Her grandmother worked there as did her mother. Her mother even went into labour with her while she was working at the market. And tasted proscuitto di parma and prosciutto di montagna at Emilianos prosciutteria, which his great grandfather opened in 1920. The lunch came into play.
'Casa mia' pays homage to the Roman classics. A few glasses of delightful white and red wine as we dipped into the traditional Amatriciana – tomato sauce, pecorino Romano, with cured pork cheek called Guanciale. No crummy bacon. The real Carbonara (as we know it) is made with aged pork cheek smothered and rested in a layers of black pepper.
We finished off in the back-streets of Trastevere at the classic 'Biscottifficio Innocenti'. Opened in 1920 by current owner Stefania's grandpa Sesto who then passed it on to his son Enzo and Stefanias mom Anna, she runs it with the help of her daughter Manuela and partner Giuliano. Their oven was built in the 1960s and its a whopping 16 meters long. We tried the Limoncini and ugly but good biscuits (hazelnuts, egg whites, sugar and vanilla).
The experience left us in a world of nirvana.
We found both food tours held us in great stead for the remainder of the trip. We did try bits and pieces here and there, but essentially the tastings and the stories moved us back to the previous spots most days.
Our last dinner however was quite a find, well after much research. 'La Tavernaccia' on the outskirts of Trastevere was a fantastic experience and we finally got our fill of the end-of-season Artichokes served with a deathly Buffalo Mozzarella. To top it off the staff were chatty and friendly. We can only highly recommend this restaurant.
In the mix of this 5 day Roma adventure we also devoured handmade Cannelloni wafer. The Ricotta filled upon order. By a local Roma grandmother. In a historic bakery-come-cake-shop. Unfortunately for the life of us we cannot find the name, but it was in Trastevere and it was a one in a million experience. It was "sexual chocolate" type of moment.

Final word: not ''when in Rome''. Take both these food tours – and more if you have time!