Finally! The Berlin Christmas Markets Are Open!
Yesterday was the opening day of the Berlin Christmas Markets, which is a holiday in and of itself.
Fork & Walk
was out in full force celebrating and sampling to make sure we are ready to show our guests the best Christmas food that the city has to offer. The first week of the Berlin Christmas Market season is one of the best weeks for market-lovers. Stocks of potential Christmas gifts are full, the people working at the stands are smiling, and the food is fresh. It is also a day when locals slip out after work and grab their very first Glühwein of the season! For the uninitiated, Glühwein is a hot winter drink that is made by mulling red wine, sugar, hints of citrus and spices on low heat. We had to drag some of our more warm-blooded Fork & Walk colleagues out of the office, but out-we-went-a-sampling. We tasted some old classics and kept a look out for the new tastes of 2018.
Lucia Weihnachtsmarkt
We started off in the Kulturbrauerei in Prenzlauerberg. Named after the Nordic goddess Lucia, this market has a traditionally Scandinavian Christmas feel. The style and décor harkens north and the stalls offer Scandinavian specialties including variations on some old German standards. Depending on which country it comes from, Glühwein might be called something like Grog, Glöggi or Glögg. Often what varies between the Scandinavian mulled wines is the type of hard spirits added to them. For example, Germans often add a shot of rum if you ask, Swedes add brandy or port as a rule. At Lucia, we indulged in a heaping portion of traditional 'Grünkohl & Wurst' with a side of spicy mustard. We tasted some mulled apple wine (the Christmas market drink option for vegans). We also had some sweet popcorn, a bite of our favorite Dinelle (a sort of Flammküchen) and sampled Swedish meatballs. The Lucia Weihnachtsmarkt has plenty of options for meat lovers and vegetarians alike, as do almost all Berlin Christmas Markets nowadays.
Gendarmenmarkt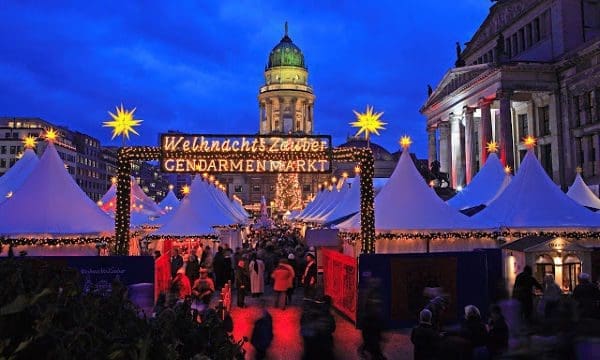 After filling up at the Lucia, we hopped on the U2 and rode to
another great market in Mitte
, Berlin's central district. This market takes place in a square called Gendarmenmarkt. Gendarmenmarkt translates as 'Soldier's Market,' and is Berlin's most elegant market square. There is a one euro fee to enter this one, but it is well worth the price. Come here if you have a sweet tooth! The market hosts live performance events which are staged in front of the famed
Berlin Konzerthaus
. We saw classical ballerinas and lords-a-leaping on our trip through. While we only got warmed up at Lucia in Kulturbrauerei, we went on an absolute food blitz at the Gendarmenmarkt Christmas Market. The Fork and Walk team sampled everything from baked marzipan bites to chocolate and orange blossom macaroons, to cheese balls, to roasted cinnamon almonds.
The Other Greats
Those are just two of Berlin's more traditional markets, but two of our favorites. We are making plans to get around to as many as we can this year. No matter what your tastes, Berlin has a Christmas market to fit. Some of the other traditional markets we like are the
Charlottenburg Palace Weihnachtsmarkt
with a special play area for kids and homemade
Schaumküsse
. We also like the Christmas Market at
Rotes Rathaus
. For something a bit out of the ordinary, don't miss the
Alt-Rixdorf market in Neukölln
. If you are here visiting on one of the Advent Sundays, have a look at
the Vegan Market in Winterfeldplatz
. Want to know more? Check out the listings of the Berlin Christmas Markets
here
and
here
.