Forced closures have inspired Berlin's booming restaurant scene to take unprecedented measures. Takeaway!
It is truly bizarre times we are living at this very moment, but through crisis shines creativity. The will to survive, push through and never let go of the hope that there is light at the end of the tunnel (or in our case foodie experiences). In this edition, we are delving into what's cooking in Berlin and which restaurants have dug deep in-order to convert their closed restaurants into takeaway and drive through options via pick-up and delivery to your door. From Michelin star restaurants to quality fusion eats, Fork & Walk continue to deliver the best food in Berlin, albeit by recommendation at this present time.
Warning: After divulging the below dangerous list of tasty sensations, you may make any excuse to self-quarantine and order from the very comfort of your couch (or even bathtub…we don't judge).
A short note:
There is no doubt the current Covid-19 is an absolute horror story, that we are all waiting to wake up from and hope it was a dream. But in-turn, this could be exactly the push many industries and employees were waiting for in-regards to the option to work from home. For the Berlin foodie scene this means restaurants converting to takeaway via delivery, something which top-quality restaurants would have otherwise never entertained. Eateries and restaurants are jumping on the Berlin take-away bandwagon to test out the waters. Could this be the start of a foodie takeaway revolution?
Nobelhart & Schmutzig – Daheim (at home)
This goes at the top of our list. Not because of its affordability. This is a 1-star Michelin delivery directly to your door. Absolutely unbelievable and before now, inconceivable!
This really could be a look into the future of fine dining take-away.
The Host: the unforgettable and unique character of founder Billy Wagner, multi-time winner of Germany's top sommelier honours adorned his restaurant with Berlin at his heart and the motto ''Radically Regional''. This agriculturally oriented cuisine showcasing the best food from the Berlin/Brandenburg region could be described in many ways. But the best are ''just go and experience''.
What's on offer: the whole ensemble and all the good sh*t within! Condoms & Champagne included. Klasse und Stimmt!
Packaging: Cardboard box from biological packaging.
Find it here: https://www.nobelhartundschmutzig.com/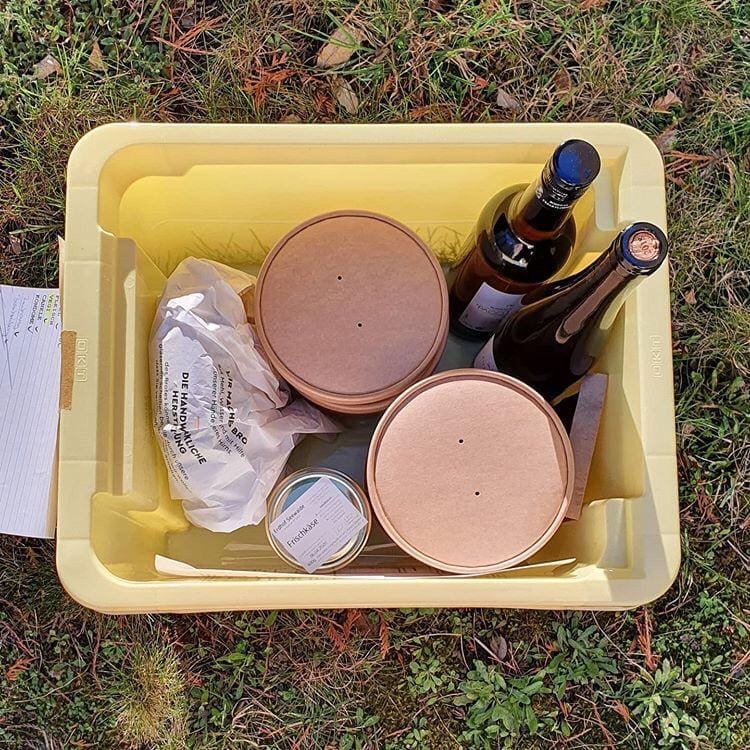 Mrs Robinsons
We are delighted to present one of our absolute favourite local joints and so happy they are busting up culinary delights to soothe our souls during difficult times.
The Host: Set in the local neighbourhood of Prenzlauer Berg, this restaurant presents creative Asian fusion dishes with a rotating menu based on fresh regional ingredients under the concept of "sharing is caring". The decor of white brick walls, simple wooden tables, minimalist lamps and a bar overlooking the kitchen only adds to its charm.
What's on offer:
Sangas (i.e. top-quality sandwiches) Fried chicken and Juicy minute steak – all gently resting between lusciously toasted brioche buns.
Premium Self-Quarantine Packages: 'Luxe Brunch' and 'Steak Nights' (perfectly suited for a one's special day that lands during a crisis)
Find it here: https://www.mrsrobinsons.de/
PS. try to find the Clockwork Orange reference in the below shot.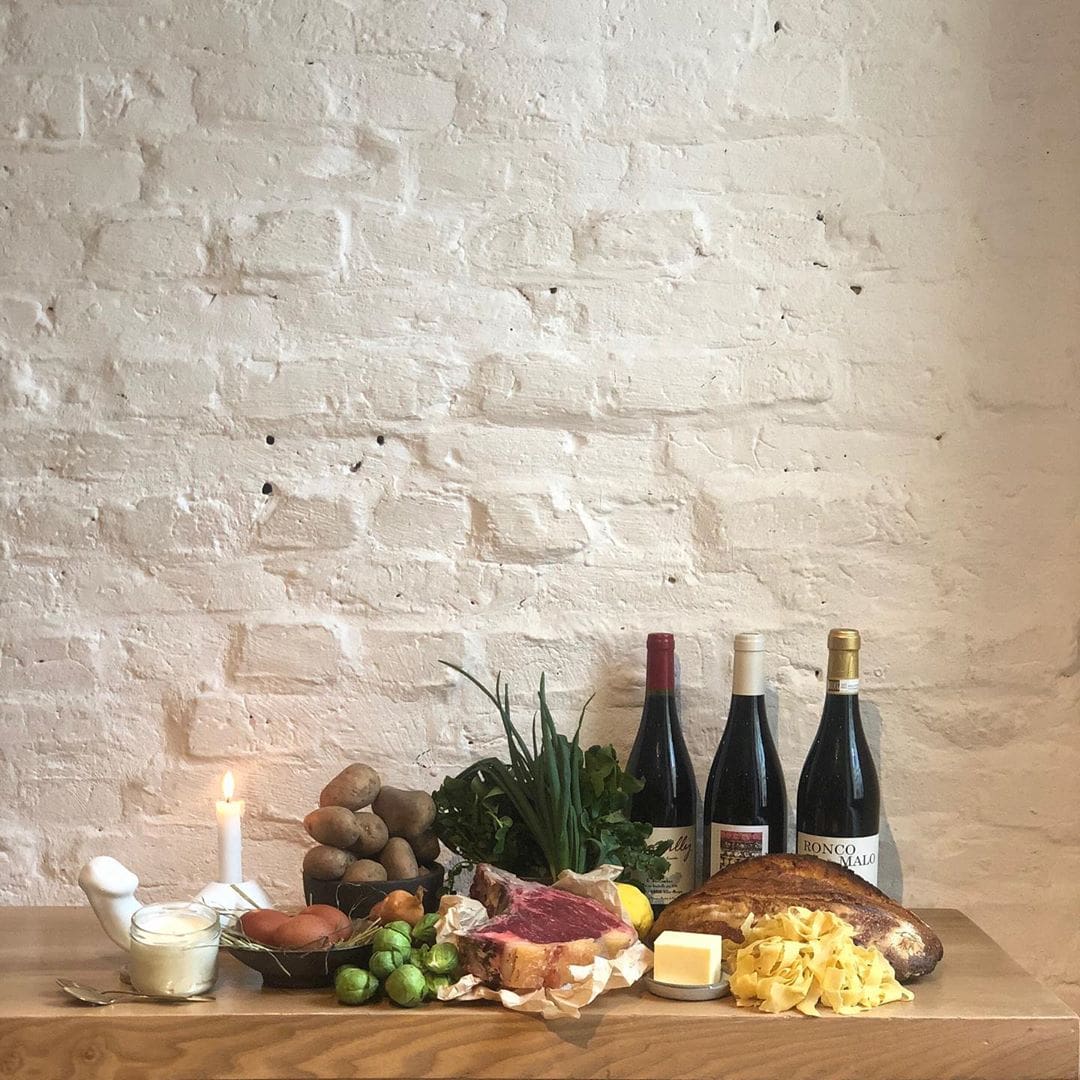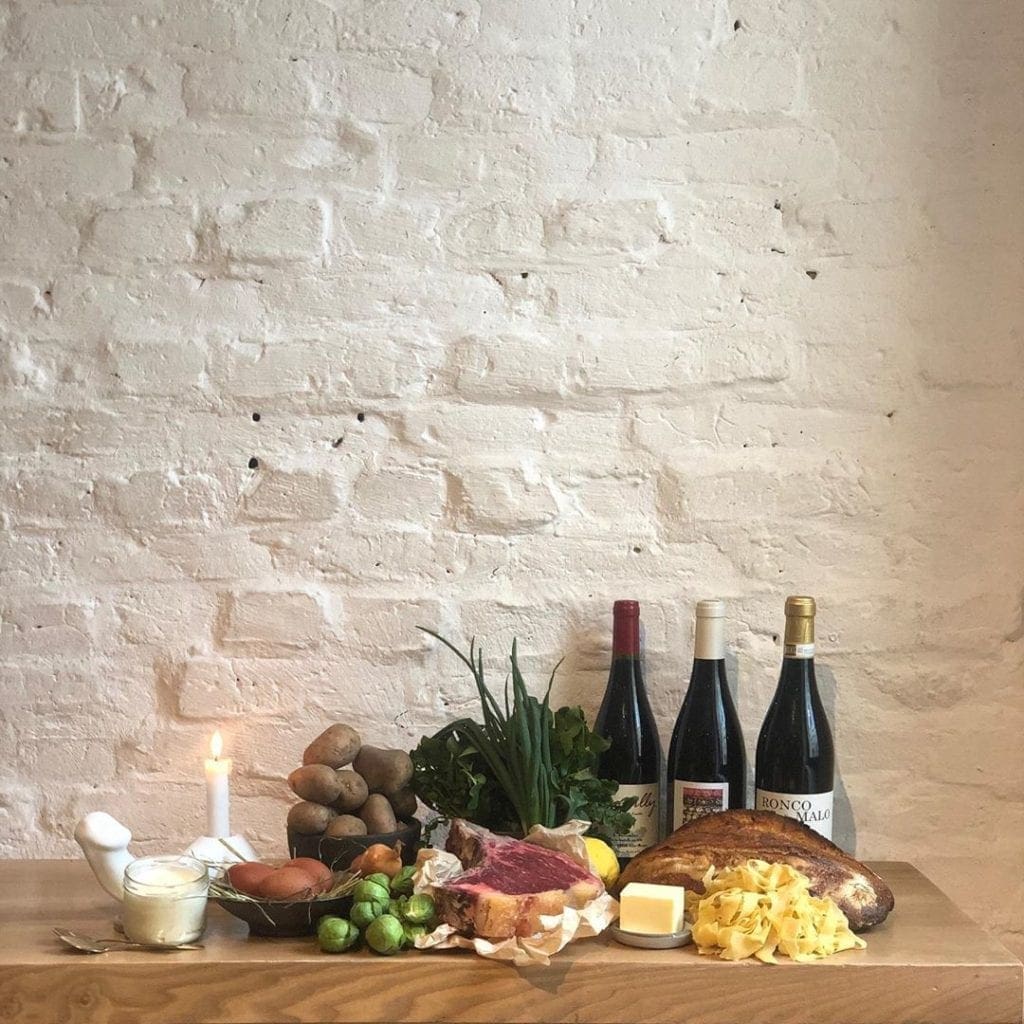 Kin Dee
One of our favourite restaurant mottos in Berlin 'Unapologetic Thai Food' and another brilliant Michelin star restaurant converting take-away via pick-up. It just gets better and better.
The Host: Kin Dee is the baby of talented chef Dalad Kambhu, one of 10 woman in Germany to have received the recent 2019 Michelin star rating. friendly, minimalist-style restaurant more than lives up to its name, Kin Dee or "eat well". The food is authentically Thai, made using top-quality local ingredients which are combined with great skill and the real taste of Thailand. Good, attentive service.
Find it here: https://kindeeberlin.com/en/
What's on offer:
Note: menu may change. this is the current menu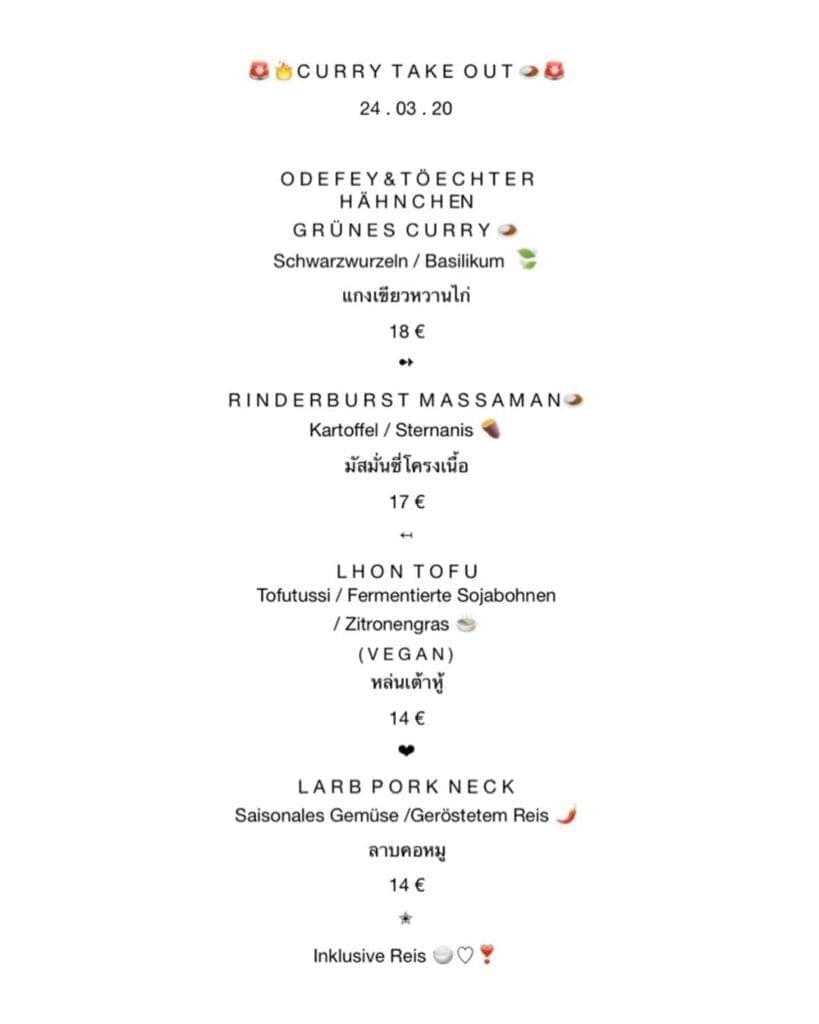 Barra Berlin
Our 2019 'Dining Experience of the Year' award goes to the team at Barra (named after the Scottish Island famous for the massive whiskey cargo that washed ashore during WWII, causing absolute pandemonium as you can imagine). We were blown away by the mix of comfort, detail, local-feel and execution. It was a delight of which we will post-Coronavirus, definitely repeat
The Host: This new generation of modern bistronomy in Berlin is brilliantly represented by head chef Daniel Remers (formerly of the hugely popular Industry Standard), Kerry Westhead (font of house & wine connoisseur) and Daniel Paterson (pasta specialist). Nestled gently between the local housing in the chic & shabby hood of Neukölln Barra serves on ''common sense comfort food'' as Daniel describes it, with regular menu changes encouraging us to return. The whole experience is homely, comforting and simply top-of-the-pops!
Find it here: https://www.barraberlin.com/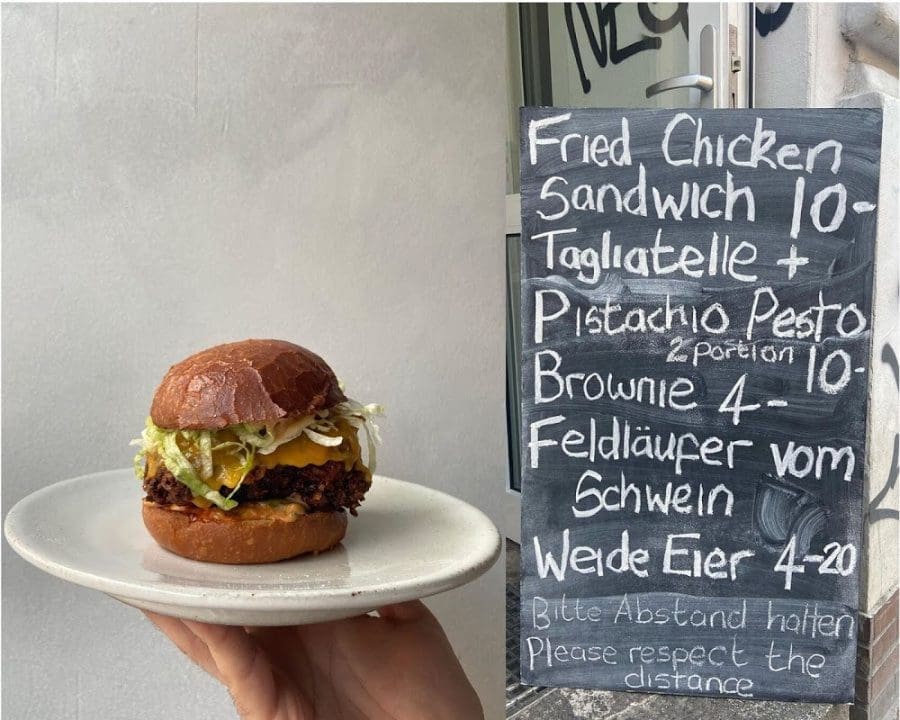 Gazzo Sourdough Pizza
''You can't make everybody happy, you're not a pizza''.
This is our motto. There is no time like now to need the pick-up of bloody good comforting sourdough pizza at Gazzo. Thank gosh they have decided to open up this option!
The Host: Gazzo is serious about two things: sourdough and locally-sourced produce. Namely, their concept revolves around sourdough. Sourdough pizzas, sourdough bread. They make it fresh on the property and keep their bubbling yeast starter on proud display in a small unit next to the bar. It's living, breathing, rent-paying Hobrechtstraße yeast. An ever-changing Neuköllner culture (much like the neighbourhood itself), meaning that no two batches of dough are the same. The result is varying flavour profiles in the pizza bases, nuanced and tingling with acidity. It's a combination of Roman and Neapolitan methods synergised to create a new and exciting beast altogether, a sort of neo-Neapolitan without being overly Italian.
Text courtesy of berlinlovesyou.com
What's on offer: All the sourdough pizza you can devour. For delivery & pick-up via contactless payment.
Special: If you order pizza for delivery today, you get a roll of toilet paper with your pizza FOR FREE!
Find it here: https://www.gazzopizza.com/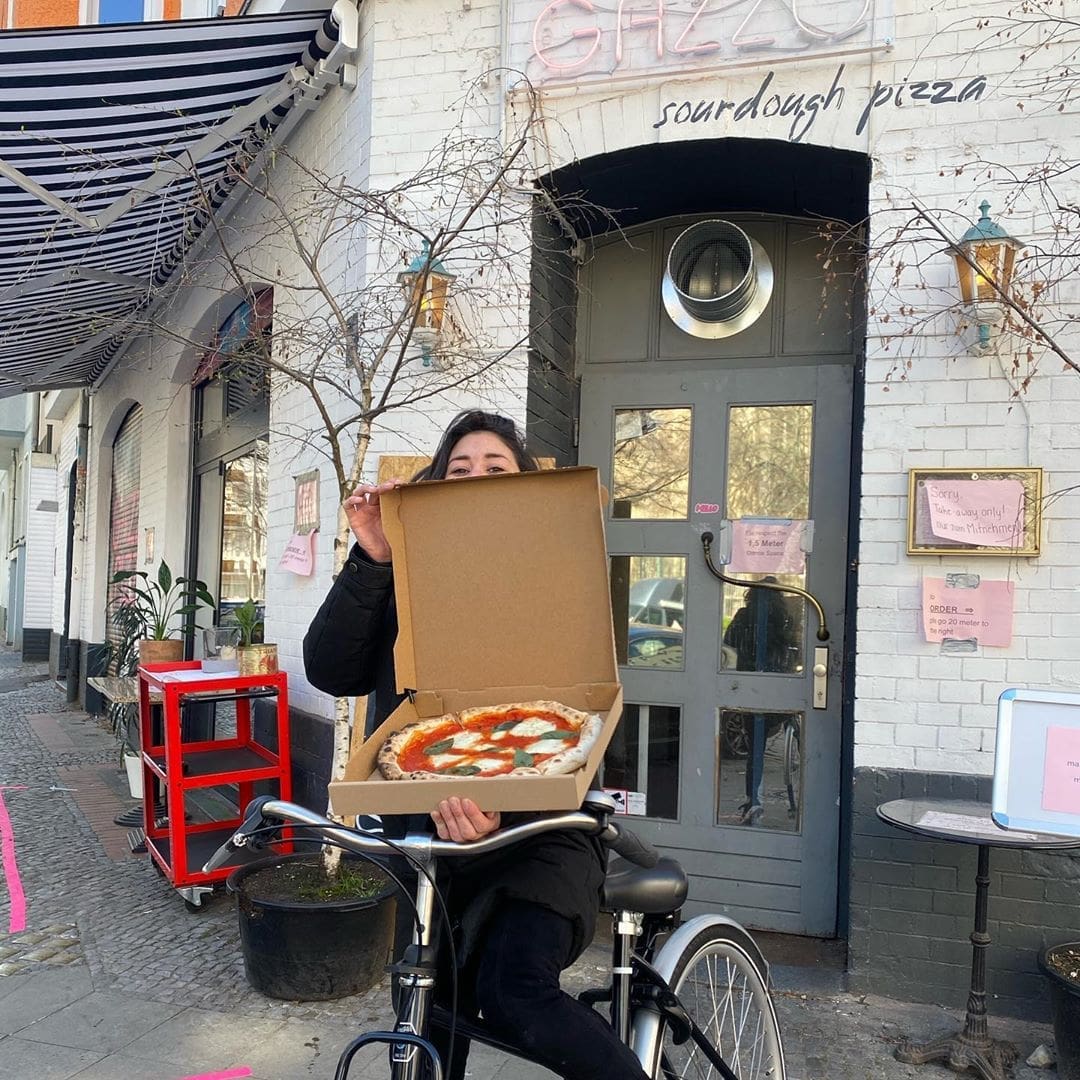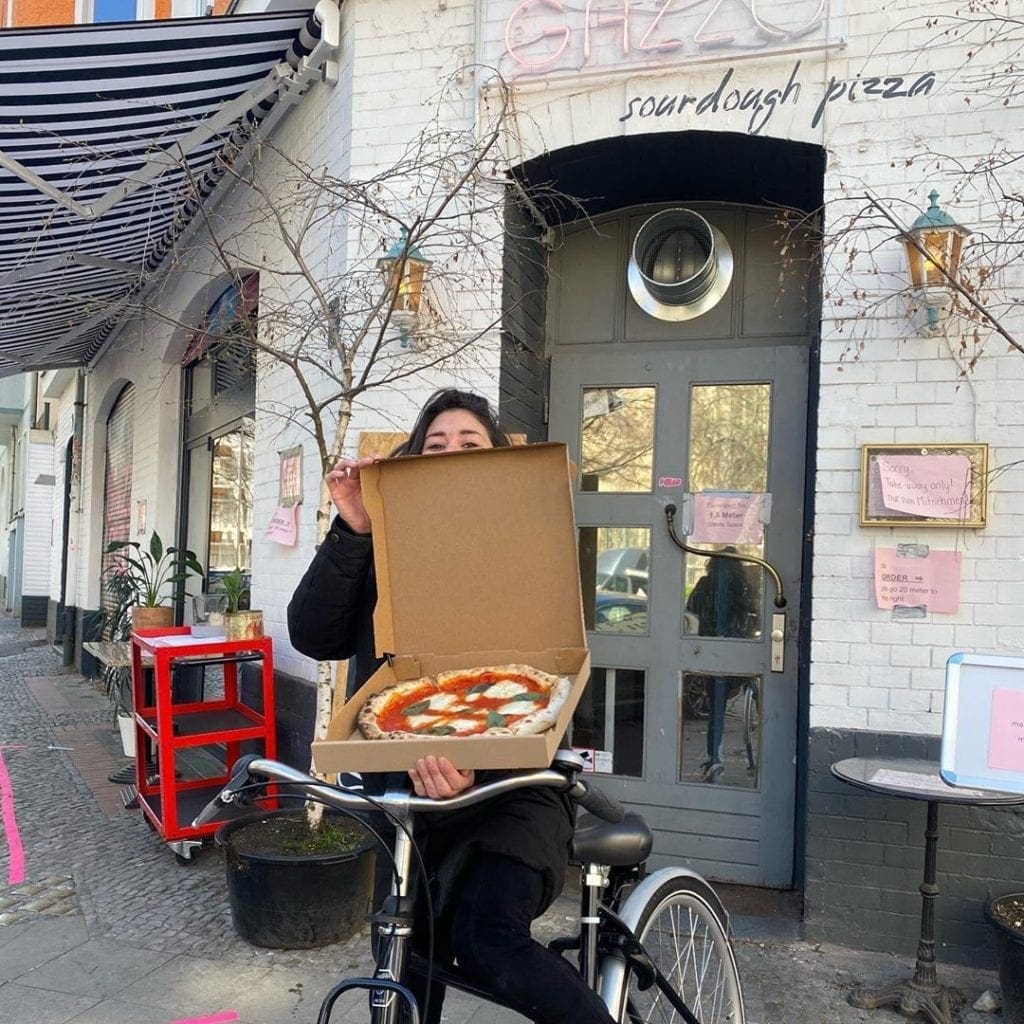 Beba Restaurant – We Will Feed You!
Beba burst into our view in the middle of last year. Since then, the flavours still linger delightfully on our tongues. To hear Beba is not packing it yet and holding strong is absolute credit to their food quality and fantastic dishes. Considering they are only usually open during the daytime, the option to order until 22:00h is seriously tempting. This would also be a perfect home delivery for your Friday night feast!
The Host: the elegant and delightful Shani Leidermann packs a punch with Beba's inspired Jewish home cooking from around the diaspora. Set in the Neo-renaissance inspired Martin-Gropius-Bau with beautiful indoor gardens of which they grow much of the products they use. The food is colourful and has strong flavours.
Everything is made in-house! From the bread to sauces and pickles.
What's on offer: Mezzas, InFarm salads, daily dishes & feasts (this is gold!)
Beba accepts orders until 22:00 for the day after – Payment is done easily online – Delivery will be contactless – Min order is 20 euro.
Find it here: https://www.bebarestaurant.com/online-ordering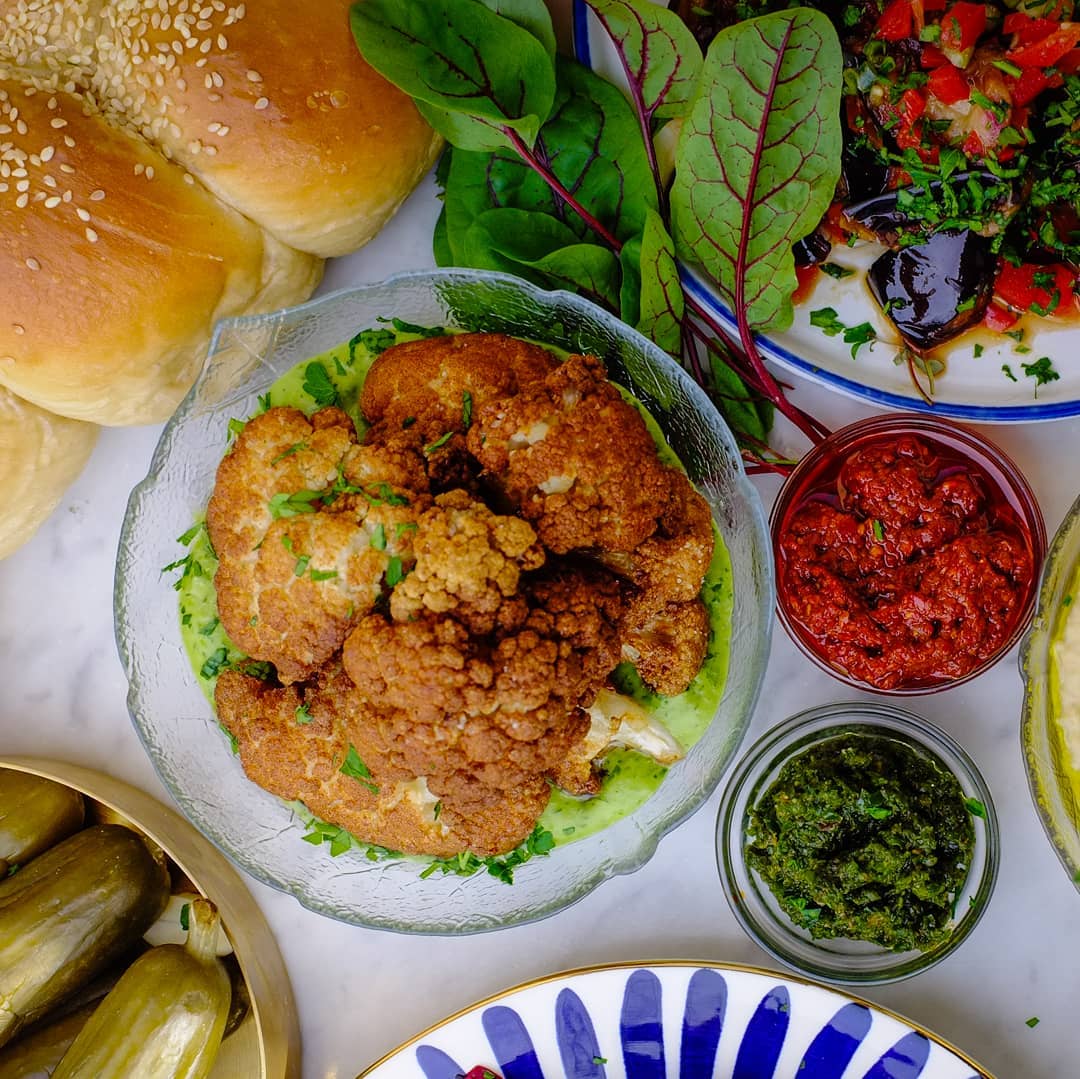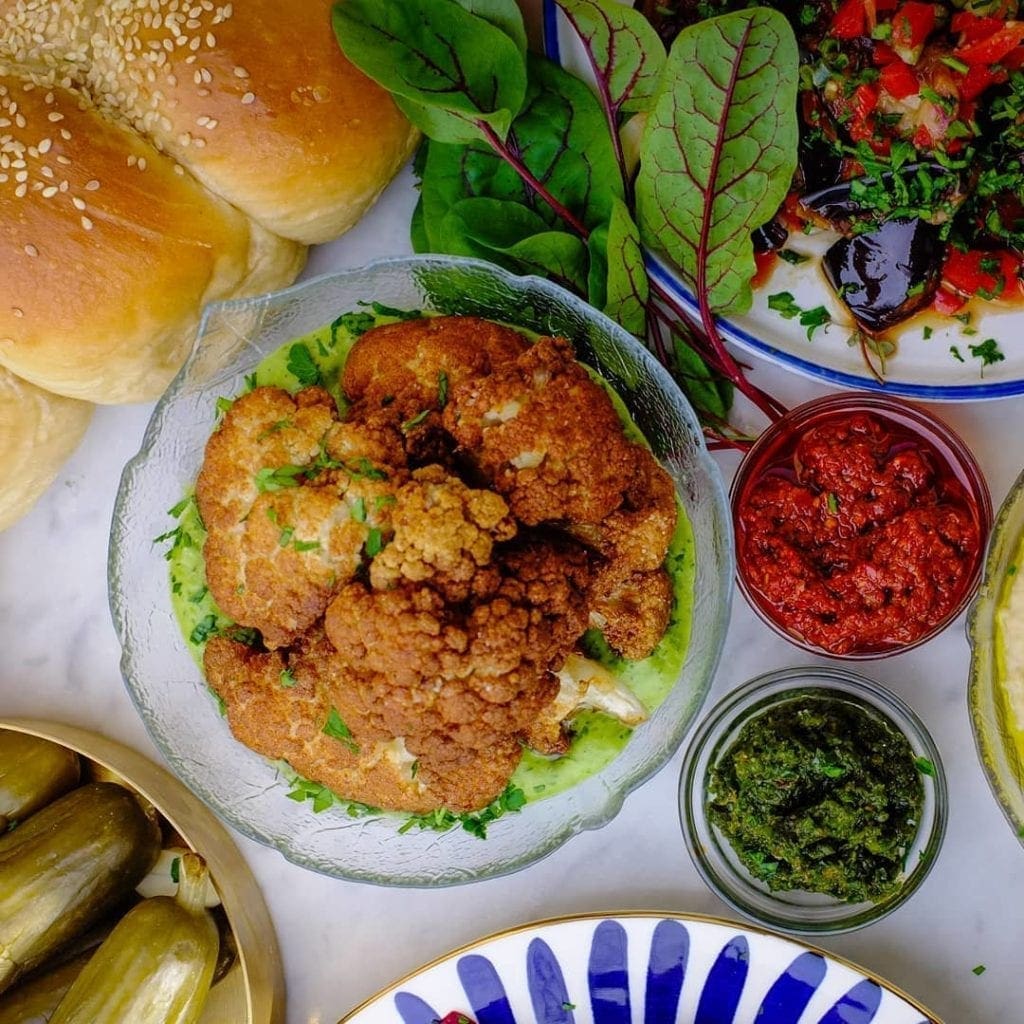 Häppies
Our delight of Häppies joining the Berlin-world of hottest takeaway food options during Covid-19 is like music to our ears and jumps of joy in our stomachs. Uli and her wonderful team have fast tracked their quest to deliver Häppies directly to your door.
And hot off the press news is: they are working on delivering deep frozen Häppies to be steamed at home. That's right, you heard it here first right here! Release date TBC.
The Host: There are endless lovely words we can write about the people behind Häppies and the dishes which are made with pure love and energy. Uli and her Häppies crew elegantly create fusion Austrian dumplings. The full story can be found on our Trends & Classics Food Tour. In the meantime however, put this place at the top of your Berlin food list, as you will want to go back again and again.
What's on offer: The whole shebang and some Häppie extras!
Order via Lieferando.
The Extra Bits:
Gigi – plain & simple häppie
Laura – nut nougat cream (yum!)
Homemade kimchi
Dad's vanilla syrup – make your very own lemonade at home
Find it here: https://www.lieferando.de/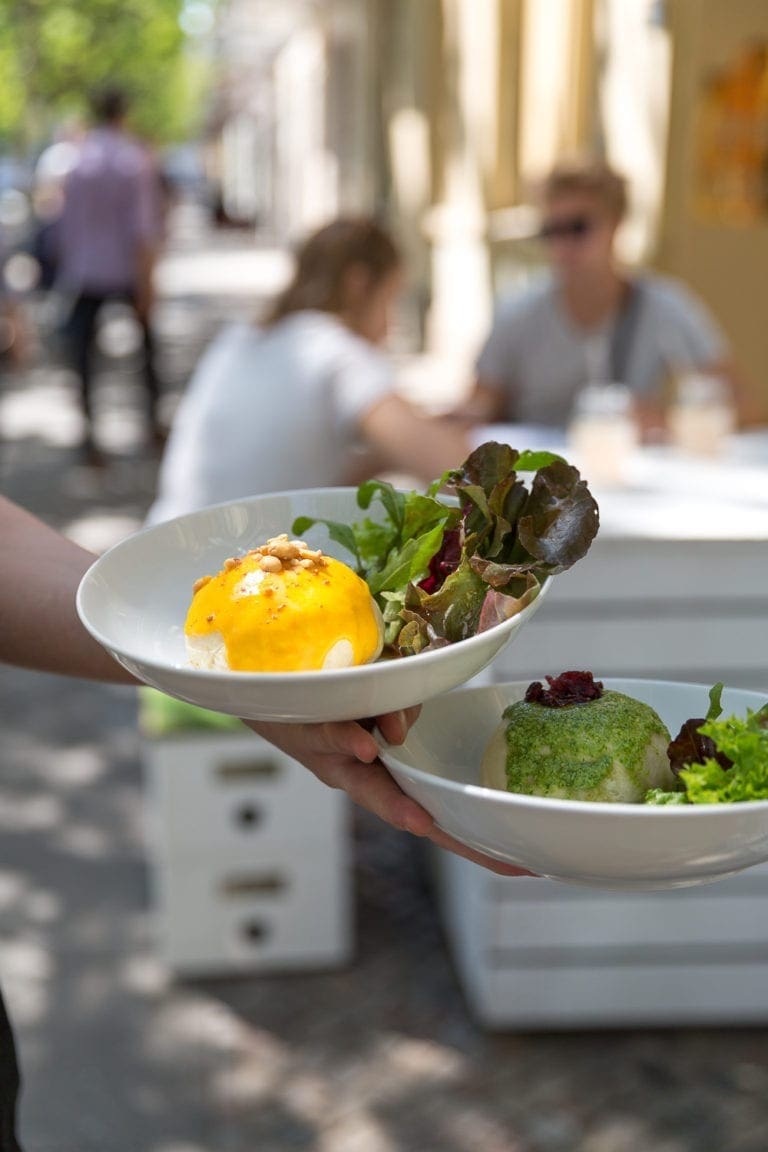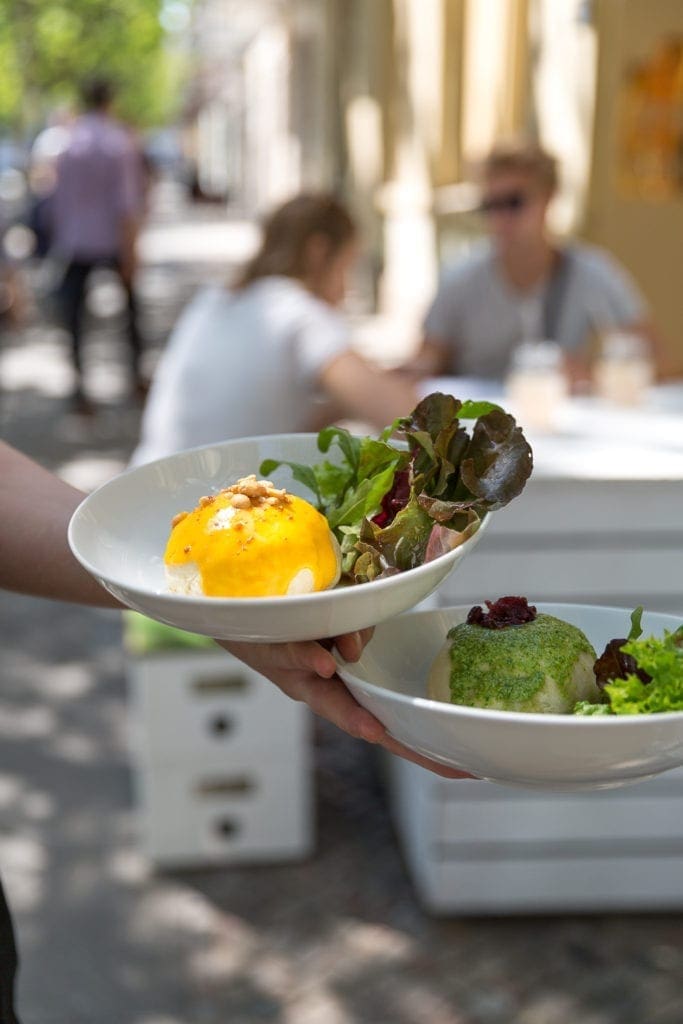 That' a tasty wrap of our latest blog issue!
Stay tuned for the next delicious Fork & Walk blog where we will be talking about 'Your List of Top Foodie Tour Dreams – Post Virus Madness'. In this topic we will be discussing some of the best food tour options around the worldwide and our soon to be released Food Lovers Package Tour from Berlin to Munich – SMOKIN!